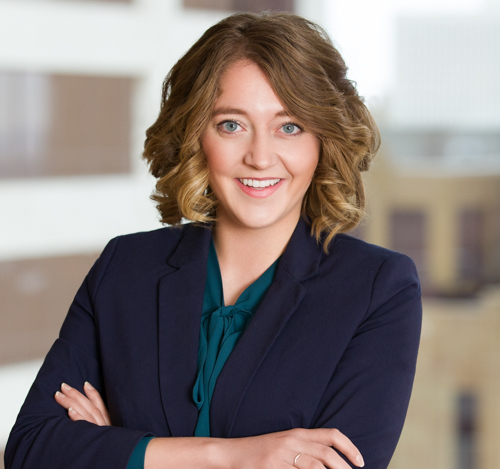 Maria PleseAttorney, Associate
mplese@hensonefron.com
(612) 252-2832
"Clients should expect their estate plan to be as unique as they are; it should never feel cookie-cutter. I work with clients to ensure their plans are tailored to reach their goals, preserving the things they value most and evolving as they do."
Contact Me
Truly understanding my clients' needs and objectives are key to the development of a strategic and meaningful plan, and fostering a relationship they can trust for the long term.
From creating an effective estate plan to helping clients navigate estate and trust administration matters, I assist with:
preparation of wills and trusts, healthcare directives, and powers of attorney
drafting trusts for minors, charitable trusts, and special needs and supplemental trusts
business succession planning
state and federal gift and estate tax law
guardianship/conservatorship
elder law
The estate planning process is inherently personal because of the information involved. As a compassionate and welcoming advisor, I listen carefully as you share your values, concerns, and motivating factors with me. Being able to create an estate plan that reflects your personal story while reaching your goals and objectives is what matters most.
When you are charged with administering an estate or trust, or, acting as guardian/conservator, the responsibilities often seem overwhelming. I serve as the bridge to explain complicated issues and simplify the process as you go. If a dispute should arise, you can rest assured that I am a staunch advocate who will vigorously represent your interests.
It is incredibly rewarding to make a tangible difference, providing my clients with the comfort of knowing that no matter what the future holds, they will be prepared for it.

ASSISTANT
Tami Williams
(612) 252-2872

twilliams@hensonefron.com
EDUCATION
J.D., University of St. Thomas School of Law, 2017
B.A., cum laude, North Dakota State University, 2014
BAR ADMISSIONS
HONORS
Recognized in the 2021 & 2022 Edition of Best Lawyers: Ones to Watch: Litigation – Trusts and Estates, Trusts and Estates
Recipient, Dean's Award Honors: Mediation, University of St. Thomas School of Law
Recipient, Dean's Award Honors: Community Justice Project Clinic, University of St. Thomas School of Law
Recipient, Dean's Award Honors: Legal Analysis Review, University of St. Thomas School of Law
PROFESSIONAL
Judicial extern to the Honorable Elizabeth Cutter, Hennepin County Probate Court, January 2017–May 2017
Summer Associate, Ruder Ware, 2016
Certified Student Attorney: Elder Law & Community Justice, Interprofessional Center for Legal Services, August 2015–December 2016
Summer Law Clerk, CHS, Inc., 2015
Real Estate License, ND–Realtor, 2012–2014
COMMUNITY
Youth Leadership Award Volunteer, Rotary, July 2009–Present
Chapter President, Minnesota Justice Foundation, September 2014–2017
Minnesota State Bar Association, Trust and Probate Section Member
ARTICLES
Co-Author, "#FreeBritney: Recent Changes To Minnesota Law Seeks To Avoid "Toxic" Conservatorships and Guardianships," Henson Efron Thought Leadership, July 2021
Co-Author, "Don't Let a Simple Plan Get In The Way of Properly Insuring Your Home," Henson Efron Thought Leadership, June 2021
Co-Author, "Coping with Alzheimer's and Dementia From a Legal and Planning Perspective," Henson Efron Thought Leadership, September 2020
Co-Author, "Coronavirus Threat Should Prompt Action on Key Estate Planning Documents," Henson Efron Thought Leadership, March 2020

Co-Author, chapter addressing "Trustees' Duties, Powers, and Liabilities," 

Minnesota Trust Administration Handbook

, Minnesota CLE, 2018-2019

Co-Author, "Proposals and Prenups: What to do before – or after – you say I do," Henson Efron Thought Leadership, February 2019
Co-Author, "Understanding the New Tax Law Changes: Considerations for Estate Planning," Henson Efron Thought Leadership, February 2018