< BACK TO NEWS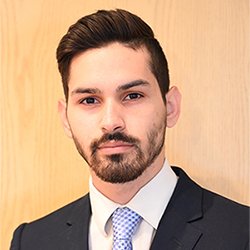 Michael Van Ryn Joins the Firm
June 15, 2021

Michael Van Ryn is an upcoming second-year law student at the University of Minnesota Law School and joins the firm this summer as a law clerk.
"I'm excited and honored to begin my legal career at such a well-respected firm in the Twin Cities. I look forward to the opportunity to learn from an experienced and dedicated team."
In undergrad, Michael completed a B.S. in Biomedical Engineering at Florida International University. In his second year in law school, he will be participating in the Community Legal Partnership for Health Clinic and hopes to staff on a journal.
"I am planning on selecting coursework around my interest in health law and patent law, but I am keeping an open mind to all practice areas and settings as potential career paths. I am enjoying my work in all of Henson Efron's practice areas this summer and am developing an interest in family law."
Michael is originally from South Florida but has enjoyed his first year in Minnesota.