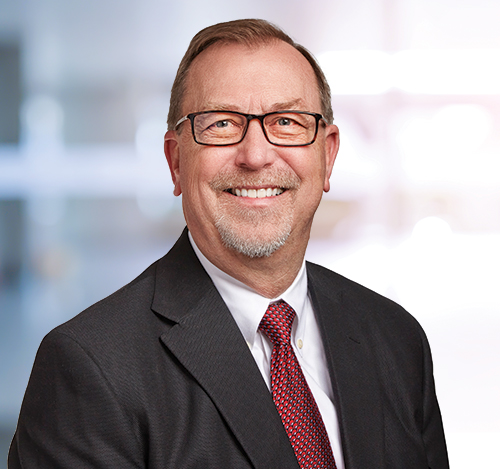 Clark OpdahlAttorney, Shareholder
copdahl@hensonefron.com
(612) 252-2867
"The art of being a business lawyer is protecting my clients' interests—balancing risk and opportunity—while achieving their business goals."
Contact Me
I am all business, for all businesses. In my thirty plus years as a business lawyer, I have handled virtually every issue affecting or arising from the business lifecycle. Whether you have an existing business or plan to launch one—regardless of your industry—I'm here to help you.
Clients rely on me to spot issues, assess and minimize risk, develop creative solutions, and provide pragmatic advice to execute a strategy for achieving their goals. My depth of experience ranges from reviewing and drafting all manner of contracts to negotiating complex mergers and acquisitions, and advising on wealth management issues. I have dealt with business issues from the client's chair, having worked in my family's graphic arts and advertising agency early in my career.
I am grateful to possess the unique left brain, right brain combination of logical and creative thinking. I can connect concepts that aren't necessarily related, see trends and patterns, and identify the pertinent issues to find the best solution for each client's situation.
I am also proud to serve on the firm's management committee and to have been the firm's President from 2008-2019. It's exciting to be a part of a collaborative team focused on a common goal: providing smart solutions to clients.
CLIENTS SAY:
"Clark is willing to go the extra mile, so everything is done right—he's meticulous."
"He is thoughtful in both actions and words and always delivers on his promises and commitments."
"Clark exudes professionalism, honesty, and integrity."
"He sees the big picture and quickly grasps the issue at hand."
ASSISTANT
Kathy Godfrey
(612) 252-2836

kgodfrey@hensonefron.com
Assisted company counsel in connection with the sale of a private company that owned a portfolio of warehouses and storage spaces ($1.24B deal)
Represented ABRA Auto Body & Glass LP in various asset and stock acquisition transactions, including single and multiple shop transactions ranging in purchase price and complexity
Represented various publicly held and privately owned companies and individuals in acquisitions and divestitures of businesses up to and in excess of $300 million
Provided general business advice regarding wide variety of simple and complex business transactions and employee and independent contractor relationships
Advised numerous clients on business formation issues, including choice of entity and governance issues and buy/sell and cross-purchase agreements
Represented purchasers and sellers in private-label supply agreement and in supply agreements for purchase of millions of dollars in services, components, materials, and finished goods
Represented lenders and borrowers in lending transactions, including secured and unsecured transactions
Drafted multi-million dollar product development and supply agreement
Drafted development agreement for products utilizing substantial patent portfolio
Represented client in purchase of accounting and financial personnel placement business with earn-out feature
Represented seller of successful co-pack manufacturing company to private equity firm
Represented four founding shareholders in the sale of their company to a publicly traded company
Represented a client in the sale of engineering consulting company to a publicly traded company
Directed the sale of a business by a founding owner to the company's management group
Represented a large truck dealership in the acquisition of a business in Cleveland, Ohio; the transaction was an asset purchase with several complex arrangements, including employment agreements and phantom ownership agreements for selling owners who were being hired to grow development of the business following the closing
Represented shareholder in family business valued in excess of $150 million dealing with shareholder control/dispute issues and related trust issues, and represented shareholder in sale of stock to ESOP in complex transaction involving multiple layers of financing and retained equity interests
Represented billion-dollar company as borrower in negotiation of multi-currency credit facilities
Represented buyer in $100+ million merger transaction to acquire service and buying group business
Represented seller of software as a service (SAAS) business to private equity buyer
Represented borrower in $800 million multi-currency lending transaction for domestic borrower and foreign subsidiaries
Represented borrower in $400 million bridge loan to finance acquisition of manufacturing company
Represented syndicate of lenders in $600,000 secured bridge loan to borrower in which lenders received warrants to purchase borrower's stock
Represented licensors and licensees in patent licensing and trademark licensing transactions and in sales of patents and trademarks
Reviewed and advised clients regarding advertising issues and UCC issues
Represented companies owned by Employee Stock Ownership Plans (ESOPs), including financing, stock buyback, and plan administration issues
Advised manufacturing clients regarding antitrust issues, including Robinson-Patman price discrimination issues
Drafted distribution and sales representative contracts for major manufacturers
Advised manufacturers on termination of distributor and sales representative issues, including oversight of litigation arising out of such terminations
Drafted and reviewed leases on behalf of commercial and industrial landlords and tenants
Represented major property management firm acting as receiver of a property in foreclosure, including preparation and review of leases, conduct of unlawful detainer actions, and advice on receivership matters
Drafted landfill gas sale and easement contract for privately owned landfill to permit it to take advantage of Internal Revenue Code Section 29 tax credits
Represented developers, buyers, sellers, landlords, and tenants in real estate transactions, including purchase and lease transactions
Represented borrowers and lenders in construction lending transactions
EDUCATION
J.D., magna cum laude, William Mitchell College of Law, 1986
B.A., University of Minnesota, 1978
BAR ADMISSIONS
Minnesota
United States District Court for the District of Minnesota
HONORS
Featured in Minnesota Monthly Magazine as a Top Lawyer in Minnesota 2023: Family Law
2022 Circle of Excellence Attorney of The Year, Minnesota Lawyer
Recognized in The Best Lawyers in America® 2021-2023: Mergers and Acquisitions Law

2019 Attorneys of the Year, Minnesota Lawyers

Selected to Minnesota Super Lawyers®, 2007-2023
Hennepin County Bar Foundation, Fellow 2019 – an esteemed group of local attorneys, recognized by their peers, for dedication and commitment to increasing access to justice
Who's Who in American Law, 11th Edition, 2000-2001; 12th Edition, 2001-2002, 13th Edition, 2002-2003; 14th Edition 2003-2004
PROFESSIONAL
Legal Netlink Alliance, Executive Committee Member 2008-Present; Treasurer, 2017-Present
Henson Efron Management Committee, 2006-Present; President, 2008-2019
Minnesota State Bar Association
Hennepin County Bar Association, Board of Directors, Finance and Planning Committee
Hennepin County Community Relations Committee, Co-Chair 1997-1999, Chair 1988-1990
Hennepin County Publications Committee, Co-Chair 1990-1997
ADDITIONAL
Vice President, D.A. Opdahl & Associates, Inc., 1978-1986
ARTICLES & PRESENTATIONS
Co-Presenter, 2016 Henson Efron Seminar, "Hot Legal Topics for Accountants"
Co-Presenter, 2015 Henson Efron Seminar, "Top 10 Changes to Minnesota LLC Act"
Featured in Star Tribune Business Section, "Alliance is a Resource for Overseas Legal Aid," November 2, 2013
Featured in Star Tribune Business Section: Bringing Lawyers Together, November 2, 2013
Featured in Minneapolis-St. Paul Business Journal Workshop (small local business owners), February 2011
Featured in St. Paul Pioneer Press "Movers" column, July 2008
Co-Presenter, 2007 Henson Efron Seminar Series, "Advanced Choice of Entity: Tax and Non-Tax Considerations"
Presenter and Speaker, 49th Annual MNCPA Tax Conference, "Considerations in Choosing a Business Entity"
Co-Presenter, 2003 Henson Efron Seminar Series, co-sponsored by ADP and US Bank, "Effective Use of Buy/Sell Agreements"
Co-Presenter, 2002 Henson Efron Seminar Series, co-sponsored by ADP and US Bank, "Choice of Entity (Tax and Non-Tax Considerations)"
Solid Waste Association of North America: Drafting and Negotiating Issues in Landfill Gas Sale Contracts, March 1995
U.S. Environmental Protection Agency Landfill Gas Energy Recovery Financing Workshop: Drafting and Negotiating Issues in Landfill Gas Sale Contracts, June 1995
SERVICES
ADDITIONAL AREAS OF FOCUS
Employment and Executive Compensation

Securities
Supply Chain and Distribution Arrangements
TOP HONORS