< BACK TO NEWS
Henson Efron Named 2020 Best Law Firms by U.S News – Best Lawyers® 
November 1, 2019

Celebrating 10 Consecutive Years!
U.S. News & World Report and Best Lawyers® has named Henson Efron a 2020 Best Law Firm for the tenth year in a row. The list, released today, highlights seven Henson Efron practice areas in the Minneapolis metropolitan area rankings. Two new practice areas were ranked this year and two moved up to Tier 1 from Tier 2 – Commercial Litigation and Trusts & Estates Law.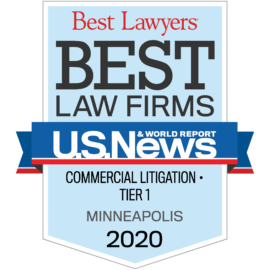 Tier 1
Commercial Litigation
Family Law
Trusts & Estates Law 
Tier 2
Bet-the-Company Litigation – New to rankings
Family Law Mediation
Litigation – Trusts & Estates Law – New to rankings
Tier 3
Litigation – Labor & Employment
Henson Efron brings more than 43 years of legal innovation to individuals and businesses, large and small. Clients rely on us for comprehensive legal services in the areas of business law; estate, trust and probate; family law; litigation; real estate; and tax. We are here to solve legal problems and provide counsel, whether it's a one-time issue or an ongoing partnership. We're proud to be a U.S. News & World Report and Best Lawyers® 2020 Best Law Firm.
Evaluation Criteria
These rankings are based on a rigorous evaluation process that includes the collection of client and lawyer evaluations, feedback from leading attorneys in their field, and review of additional information provided by law firms as part of the formal submission process. Less than 15% of firms reviewed receive the distinction of "Best Law Firm." Achieving a tiered ranking signals a unique combination of quality law practice and breadth of legal expertise.