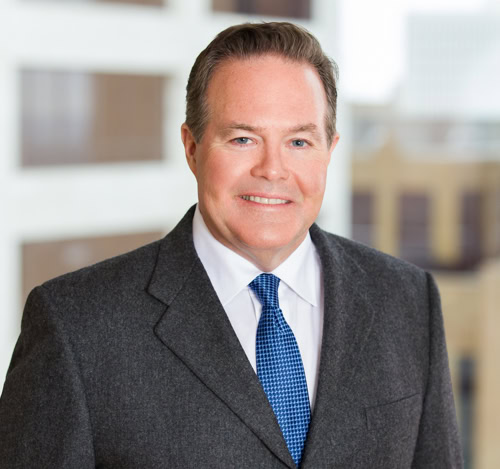 Timothy (Tim) WalshAttorney, Shareholder
twalsh@hensonefron.com
612-252-2869
"Operating at the speed of business, I help clients efficiently solve problems and effectively achieve results. My approach is business-friendly because I understand what drives businesses, how they function, and their goals."
I bring more than 30 years of experience as a business lawyer and outside counsel, combined with nearly 15 years as in-house counsel at Fortune 500 and mid-market privately-held companies. With this first-hand perspective and the breadth and depth of knowledge, I can help businesses get bigger and better, while managing their legal risks.
Whether your business is big or small, starting or expanding, or experiencing growth pains, I can help with the full spectrum of issues at every stage of the business lifecycle. My expertise includes:
complex business issues
real estate
financing
governance and structure
formation and expansion
complex contracting
I am passionate about your business and excel at driving to help you accomplish your goals. When I say I will take care of it, you can rely on me because I always deliver on my word. Developing trusted relationships is the foundation of my practice.
Your problems become my problems and I work diligently to solve them, providing proactive counsel and creative solutions along the way. Rest assured that I will never say you can't do something unless I have devised an alternative solution. Honest and direct, I will inform you of the risks and steer you with my recommendations, so you can make informed decisions.
As your outside general counsel, I can be in your business—without working inside of your business—partnering with you for long-term success.
ASSISTANT
Kathy Godfrey
(612) 252-2836
kgodfrey@hensonefron.com
BUSINESS LAW
Represented borrower in financial transactions of over $200 million
As in-house counsel and in private practice, documented, negotiated and closed multi-million dollar transactions representing lenders
Structured entire international organization alongside a foreign partner with more than 50 entities for various purposes with minority partners and buy/sell agreements
Performed tax merger, converting several entities to limited partnerships taking advantage of Texas taxation laws
Designed and orchestrated complex spin-out of real estate holding companies to the controlling owners' family-limited-partnership entities with minimal tax consequence
Assisted multiple clients in numerous deals including: sale of electronic game company to Activision; acquisition of Seattle sign distribution company; and acquisition of several stone distribution and fabrication companies totaling over $100 million in transactions
Successfully designed, negotiated, and completed significant acquisitions through the Assignment for the Benefit of Creditors process in California and New Jersey
Started legal career assisting in venture capital deals for Control Data's venture capital arm
Dealt with international supplier, distribution, financing, and formation matters
Developed comprehensive national distribution agreements for Cosentino North America, Inc. (makers of Silestone countertops), and other clients
Effectively dealt with product liability laws and issues for clients
Developed product warranties for national companies
Evaluated and assisted in optimizing tariff and customs duty for the importation of client's products and saved the company multiple millions of dollars by successfully appealing and reducing the tariff from 4 percent to no duty
Advised corporate clients on human resources law including: employment offer letters and agreements, disciplinary issues, independent contractor law, DOJ investigations, wage and hour laws, immigration laws and non-compete agreements
Managed the HR function of 1,200 employees, and was responsible for benefits plans including implementation of self-insurance for health insurance and workers' compensation insurance with savings in the millions of dollars
Evaluated insurance policies, coverages, and business risks for corporate clients
Served as Cosentino's chief risk manager responsible for all insurance, and evaluating and minimizing business risk
Successfully pursued business insurance claims including: obtaining $1.25 million in coverage on a fiduciary policy after several strong denials of coverage; convincing product liability insurer to accept coverage on a potential multi-million dollar claim, including $2 million in defense costs after insurer strongly denied coverage for several months; obtaining $3.5 million in coverage on property damage and business interruption claims after insurer first adjusted the loss at less than $250,000
COMMERCIAL REAL ESTATE
Formerly certified as Real Property Law Specialist by the Minnesota State Bar Association
Documented, drafted, negotiated, performed due diligence and closed dozens of multi-million dollar loans throughout the country for ITT Diversified Financial Corp
Represented several financial institutions in commercial real estate closings, workout, and foreclosure of commercial real estate loans
Sold real estate owned commercial properties for lenders, including US Bank, both locally and nationally
Structured and closed $42 million in multi-property deal with GE Capital on behalf of client
Established $25 million in unsecured line of credit from Bank of America in order to develop and construct several fabrication facilities for client
Managed Cosentino's real estate portfolio and function, which included the acquisition, construction, and development of approximately 20 fabrication facilities as well as another leased 25 distribution centers
Structured and closed $19 million real estate loan with foreign lender for domestic client
Representing several commercial real estate developers, resolved complex title and survey issues, and assisted with TIF financing, city and governmental approvals, leasing, development agreement, and construction; many developments represented were multi-use developments such as Galtier Plaza in St. Paul and the Mankato Mall
Reviewed and/or negotiated commercial leases locally and nationwide for both landlord and tenant
Taught basic and advanced CLE courses on commercial leasing
Negotiated and closed on the purchase or sale of dozens of commercial properties nationwide
Managed a $75 million-plus, 18-commercial-property portfolio that included responsibility for leasing, financial management, cost-segregation analysis, maintenance, acquisition, divestiture and financing
Resolved environmental issues on sites and obtained No Action/Closure letters or other evidence of remediation
EDUCATION
J.D., William Mitchell College of Law, 1985
M.B.A. program coursework, University of St. Thomas, 1989–1990
B.S.B.A., Marketing & Management, Creighton University, 1982
BAR ADMISSIONS
HONORS
Recognized in The Best Lawyers in America® 2021: Real Estate Law
PROFESSIONAL
American Bar Association, Business Law Section
Minnesota State Bar Association
ADDITIONAL
Served as General Counsel and Executive Vice President, and member of the founding team that transformed Cosentino North America (the makers of Silestone® countertops) from a small start-up to a national $300 million-plus business with operations in more than 25 states
Assisted large mid-market international manufacturing and distribution company in a transitional general counsel role
Worked as in-house counsel at two Fortune 500 companies
PRESENTATIONS
Co-presenter, "Supply Contracts" webinar, 2017
Client Educational Training Course, "M&A Process and Laws," 2017
Co-presenter, Henson Efron seminar, "Top 10 Changes to Minnesota LLC Act," 2015